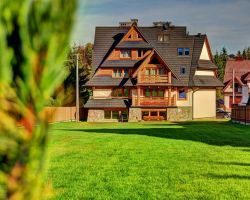 Welcome to Villa Misiaga, a new-built and cosy chalet with stunning views of the Tatra mountain range.
We'd like to offer You two comfortable and spacious apartments, named Oak and Larch. Each comprises of a double-bed bedroom, a bathroom with a walk-in rain shower, a fully equipped kitchenette and a big sofa bed. Additionally, the Oak has access to a big viewing terrace.
Villa Misiaga is a perfect place to stay if You're looking for some peace and quiet away from the noise of the city. You and Your family will enjoy privacy and a children-friendly atmosphere with access to one of the most beatiful mountain ranges in Europe.
Our guests will have access to:
free wireless Wi-Fi
safe parking space
big, widescreen TV
free baby buggies, booster seats, cribs – upon request
children's toys and games in each apartment
Local features:
Tatra National Park right outside village's gates
numerous hiking trails
a small skiing hub with an ice rink not 300 meters from the house
Male Ciche ski resort
hot springs in nearby Bukowina
plethora of local eateries and restaurants
local, well supplied shop is but a few minutes on foot